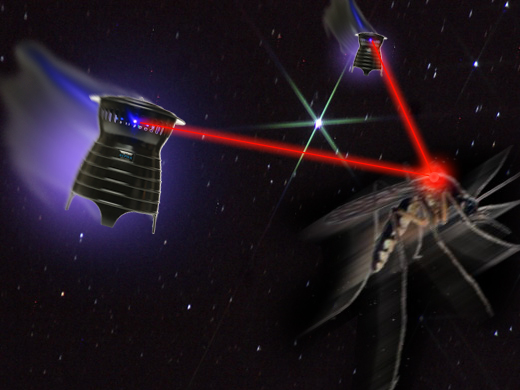 Weapon of Mosquito Destruction
When American rocket scientists proposed the 'Star Wars' defense system to knock Soviet missiles from the skies with laser beams, little did they realize that 25 years later scientists would be aiming their lasers at another airborne threat – the mosquito.  The Cold War missile-defense strategy has been reborn according to an article published in the Wall Street Journal (March 14, 2009). Now dubbed WMD, or Weapon of Mosquito Destruction, this time round the scientists' actual target is malaria.  Transmitted by the Anopheles mosquito, malaria kills between one and three million people worldwide each year according to the World Health Organization (WHO).  The plasmodium parasite that causes malaria has become increasingly drug resistant prompting scientists to look at new ways to combat the killer disease.
Efforts to eradicate malaria had stalled until high-profile philanthropist Bill Gates of Microsoft Corp focused worldwide attention on mosquito-borne diseases, and re-launched the war on Malaria.   Grants from the Bill & Melinda Gates Foundation are designed to encourage scientists to pursue bold ideas that could lead to breakthroughs, focusing on ways to prevent and treat infectious diseases. 
The laser research, funded by Gates, was commissioned by Intellectual Ventures, a Washington-based company founded by former Microsoft executive, Joseph Myhrvold.   He'd been asked by his former boss Bill Gates to look into new ways of combating malaria.  Myhrvold, together with astrophysicist and 'Star Wars' architect, Dr Lowell Wood, came up with the idea of using lasers on mosquitoes.  The laser is designed to detect the audio frequency of beating wings, zero in on the bug and burn it on the spot, according to project lead scientist Dr Jordin Kare.  The lasers, designed to be mounted on lamppost type poles could be put around the circumference of villages to create a kind of 'fence' against mosquitoes.   "We like to think back then we made some contribution to the ending of the Cold War with the Star Wars program," Dr. Kare says. "Now we're just trying to make a dent in a war that's actually gone on a lot longer and claimed a lot more lives," he told the Wall Street Journal. (March 14, 2009)
Genetically Modified Mosquitoes
Scientists everywhere are experimenting with new ways of putting paid to mosquitoes, with weapons that disrupt the sense of sight, smell and heat mosquitoes use to find their prey.   Read more…