Use a Mosquito Trap at your Outdoor Wedding and say "I Don't" to Mosquitoes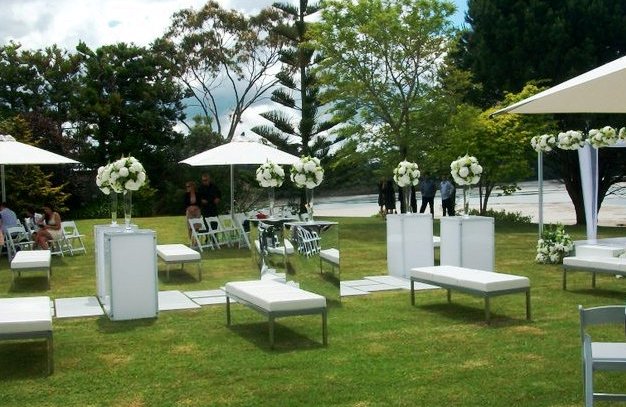 (photo: Sarah-lee 'Oto)
Summer;  it's a popular time for weddings and mosquitoes.  And while Winston Churchill probably wasn't the first person you thought of when you got engaged; he knew a thing or two when he said "He who fails to plan is planning to fail".
Attract, Trap, ENJOY!
The one thing you do need to plan for with a summer wedding, especially if it's going to be outdoors, is mosquitoes.  To help create a 'no-fly zone' at your outdoor venue, consider a mosquito trap – they work by attracting, trapping, then killing mosquitoes. 
Most mosquito traps are designed to catch immediately there are any mosquitoes around however, should be set up at least 2-3 weeks in advance of the big day. That's because it typically takes that amount of time to disrupt breeding cycles and reduce mosquito populations. This will help decrease the risk of getting bitten as well as the possibility of getting sick from the many diseases mosquitoes carry.  
Cost, coverage area and guest safety are all important factors when deciding which brand to use.  Eco-friendly, Mega-Catch™ mosquito traps don't use pesticides or propane, instead these multi attractant traps mimic the smell and sight of prey, fooling mosquitoes into sensing a blood meal close at hand. When they get near, powerful fans sweep them into the trap's catch container where they eventually die. 
Source Reduction
Make sure that there are no areas of 'standing water' where mosquitoes can breed.  Birdbaths, buckets, wheelbarrows, pot plant saucers – anything that holds water is a potential mosquito nursery.
Repel
Mosquito repellents should be regarded as staple for any outdoor event.  However while repellents provide excellent personal protection, they don't actually kill mosquitoes.  That's why you need mosquito traps.
The downside is that the majority of repellents tend to leave one looking wet and shiny in all the wrong places.  The only thing worse than mosquito bites – photos of the bridal party with noticeable shiny spots.
Off! Smooth & Dry formula is different and comes recommended by those in the know – bridal photographers.  Apparently it leaves the skin looking perfectly untouched every time, and better yet, it really does work to keep those bothersome biters away.   
What to Wear
The majority of brides wear white or ivory – the perfect color choice for avoiding a mosquito attack.  Mosquitoes have well-documented color preferences and are attracted to dark colors, especially blue and black.  So spare a thought for the groom and maybe give a nod to the season AND mosquitoes by replacing that black tuxedo jacket with a natty white dinner jacket.
Don't be a Mosquito Magnet
According to U.S. entomologist Dr Jerry Butler, mosquitoes look for the highest rates of human attractants.  "Mosquitoes use odor to sort attractive people from the unattractive people to find those that are most tasty."
What are those attractants? According to Butler, natural excretions through our skin and breath plus skin care products.  Many of the ingredients found in cosmetics will also attract mosquitoes and while a repellent may offset that, more often than not, the cosmetics and creams will last longer than the repellents.
Avoid fragrances in soaps, shampoos, and body lotions by investing in some 'fragrance-free' products.  Strong scents will only attract mosquitoes to you.  If you're having a hard time locating a good range of FF products, check out the baby section at your local drug store or supermarket.  You won't need to spend a fortune either with products like:
Dove Sensitive Skin bar soap and anti-perspirant
Aveeno Active Naturals Skin Relief BodyWash
Cliniderm Gentle Shampoo and Conditioner
Dove Unscented Extra Hold Hairspray
Neutrogena Cleanser, Toner and Moisturizer
Almay make-up
Alternatively you can buy on-line.   White Rabbit Beauty promotes quality, cruelty-free beauty products and has an extensive range of fragrance free skin-care, hair-care and make-up.
Bite Treatment
A bride's worst nightmare: waking up on the morning of the wedding to a mosquito bite….on the face.  To prevent infection as well as reduce the itch, wash the bite with soap and water. Next apply an ice-cube to numb the area and reduce the swelling.  Place a towel/face cloth between the ice-cube and skin, and leave in place for up to 20 minutes.
For a more high-tech solution you could try "Click that Itch", a revolutionary new insect bite treatment that helps relieve the itching and swelling caused by mosquito, midge and sand fly bites.  It works by emitting an electrical pulse through the bite, stimulating blood flow which in turn disperses the histamine that causes the irritation.
Cover up any residual mark or marks with a yellow-based concealer. Pat on lightly and feather out the edges so you don't have a light ring around the spot, then apply your make-up over the top. 
Table Decorations – Light Up
One of the newest mosquito repelling candles on the market are citronella free.  Bite-Lite™ candles contain a unique combination of lemongrass and spearmint essential oils.  Not only do these candles look and smell great, they repel mosquitoes at the same time. Include them in your table decorations to help keep you and your wedding guests 'bite free'.  
For added insurance include a few marigolds in your bridal bouquet and table arrangements.  Mosquitoes find their smell particularly offensive and tend not to go anywhere near them.  Yellow and orange are the most common colors however marigolds come in a variety of colors including pinks, reds and creams.
If you think all this mosquito prep is a bit of overkill – just consider that the most dangerous creature on the planet is said to be neither the lion nor the shark, but the tiny mosquito.  That's because mosquitoes infect over 700 million and kill more than a million people across the globe every year through the transmission of viruses and parasites.
While no one thing is guaranteed to make your wedding completely mosquito free; the use of mosquito traps, repellents and other sensible control measures, should help create a safer, more enjoyable outdoor space for the bride, groom and  guests.
But Wait…..there's more!
The Honeymoon
Amid the excitement and stress of wedding and honeymoon planning, many couples don't give a thought about protecting themselves from tropical diseases.  Mosquito expert Howard Carter of Incognito warns; "Honeymooners are risking an unpleasant start to married life if they do not remember to take precautions against malaria and other tropical illnesses."
The company's research shows that more than half of people on their honeymoon are bitten by an insect and of these; almost 10% will have their honeymoon ruined because of illness and even hospitalization.  20 per cent – mainly women – will develop scars from the bites.
Malaria is endemic in areas of Africa, Asia, South America, the Middle East and some parts of Europe.  Honeymooners visiting these destinations need to protect themselves against the disease. Malaria Hotspots provides maps and essential advice for anyone planning on spending time in those places affected by malaria. 
In addition to Malaria, the global incidence of dengue fever has grown dramatically in recent decades with about half of the world's population now at risk.  Over the past thirty years 50 dengue fever outbreaks have occurred in Pacific Island countries and territories—some more devastating than others. And in 2011 dengue fever re-emerged in North America after a 50 year absence.  There's currently no vaccine for dengue and experts recommend prevention is the best protection.  So whether you're honeymooning at home or abroad, include a bottle of insect repellent in your bridal tote.
And if you're stuck for gift ideas what better than a mosquito trap or two! William and Kate, the Duke and Duchess of Cambridge, were showered with at least 200 gifts during their nine-day, post-wedding trip to Canada last summer — including two mosquito traps from Health Minister Leona Aglukkaq