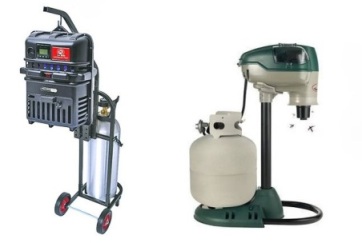 Compare CO2 vs Propane Mosquito Traps
The Ultra Trap's CO2 gas attractant system offers numerous advantages over propane combusted CO2 Traps.
| | |
| --- | --- |
| Mega-Catchâ"¢ ULTRA Trap | Propane Powered Traps |
| CO2 is non-flammable | Propane is flammable and can be dangerous |
| Programmable release allows CO2 cylinder to last up to 4 months | Propane tank typically lasts up to one month or less |
| Variable CO2 release | Fixed and continuous rate of CO2 release |
| Higher concentrations of CO2 is released increasing effectiveness | Converting CO2 from propane results in lower, less effective concentrations |
| Fewer fills and cheaper running costs | More frequent fills and more expensive running costs |
| Connects via safe 12 Volt power | Some Traps use 110 Volt power which can be dangerous outdoors |
Safety
Traps that use propane to generate CO2 can post a fire risk from leaking propane, Coleman voluntarily recalled 136,000 Mosquito Deleto Traps in 2002 because of a potential fire hazard.
Reliability
Propane traps are prone to start-up problems, burnout and blockages, which increase in frequency over time. Â They require far more maintenance and upkeep and are costly to repair.

Effectiveness
Use of the optional gas attractant system has been shown to increase capture rates of most mosquito species by as much as 300-400%. Â While the trap is designed to operate 24/7, the CO2 can be programmed to turn on and off at different times with the overlay timer. Â This allows the user to manage gas usage and cut down on costs.
Compare Traps
In a comparison of commercially available mosquito traps conducted in Cairns, Far North Queensland, Australia by Dr Scott A. Ritchie¹, PhD (University of Florida) & Dr Craig R. Williams², PhD (University of South Australia) the Mega-Catch™ Ultra trap out caught the Mosquito Magnet®  Pro.  Read More
Tropical Public Health Unit Network, Queensland Health, 19 Aplin St Cairns, Queensland 4870
School of Public Health and Tropical Medicine (Cairns, Building E1), James Cook University, PO Box 6811, Cairns, Queensland 4870